Today I was mandatoried at work. Which meant my to-do list is kaput. Therefore, I hooped when I got home with minis. Thank god for them because I wasn't really in the mood when I started. After that I decided I wasn't going to sleep. I went to the park to work on my video for hoop camp video contest. I might as well try to win it. :p You never know. :p Although this makes my 30/30 odd. I sleep 11a to 7pm. Since I'm not sleeping, when is my new day since my day 15 can actually start on the 14th. I figure any hooping past noon counts today cause I'm going to sleep at night tonight. Maybe. Depends how grumpy I get. Which is getting grumpier every minute my husband pokes me.
When I went to the park, it was so warm and pretty. Except that there is a ton of wind today. Wind plus hoops equals it falling into my face and dropping it even more than usual. On top of that, my batteries, tripod, and camera kept malfunctioning. It was so annoying.
Although I finished my friend's hoop today. It looks so good! It also feels heavier. I am thinking my friend made me a 100psi hoop and not a 160 psi hoop because when comparing the size, my hoop feels a bit heavier.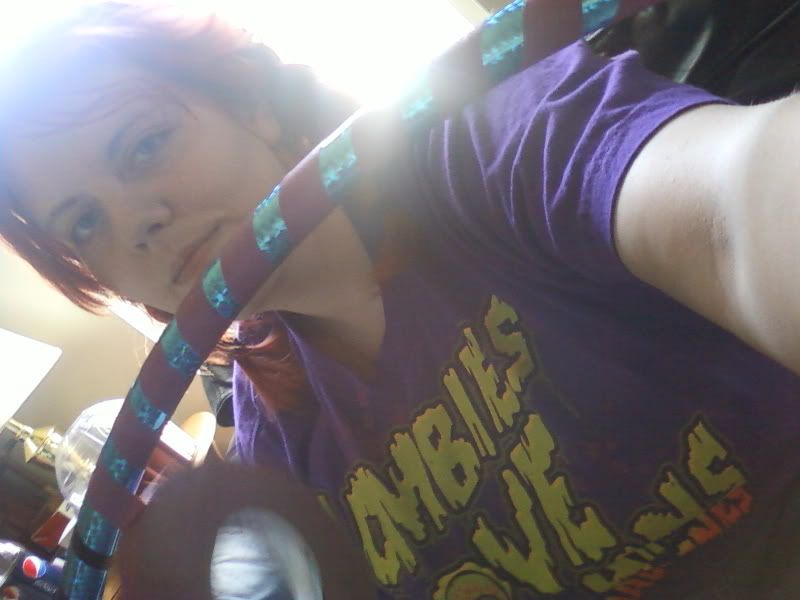 Pardon my cat hair.