I did go to Caraleeena's class. It was amazing. In depth review later. Worth every penny and more.
The next day, I hooped in the parking lot and practiced what I learned. I also got my Marisa Tomei HoopBody kit. I had to make my 30/30. I just got in the house and cooled off when John said it was time to go. Evidently, we were going to a derby party. It's at a house in the country.
There.is.a.backyard.
So, I took two hoops, one for me and one for my niece. I was out there about 75% of the time, minus eating, potty breaks, and watching that race. I was teaching my niece tricks. She's a dancer. Some was easy, some was not for her. She kept on. She told me, "I love hooping now." We'll see in a few months.
This is the hoop that came with the Marisa Tomei HoopBody Kit!




This is my husband. I look blissed out and I'm not sure what his face is saying.
The next day, my lower abs were sore. This was from all the chest rolls/body rolls/whatever the hell you call them. Can you believe that those infomercials were right? You DO need a full extension of your abs. I didn't use a bender ball, ab roller, or exercise ball. I had fun for hours! This same day was when I had my reception.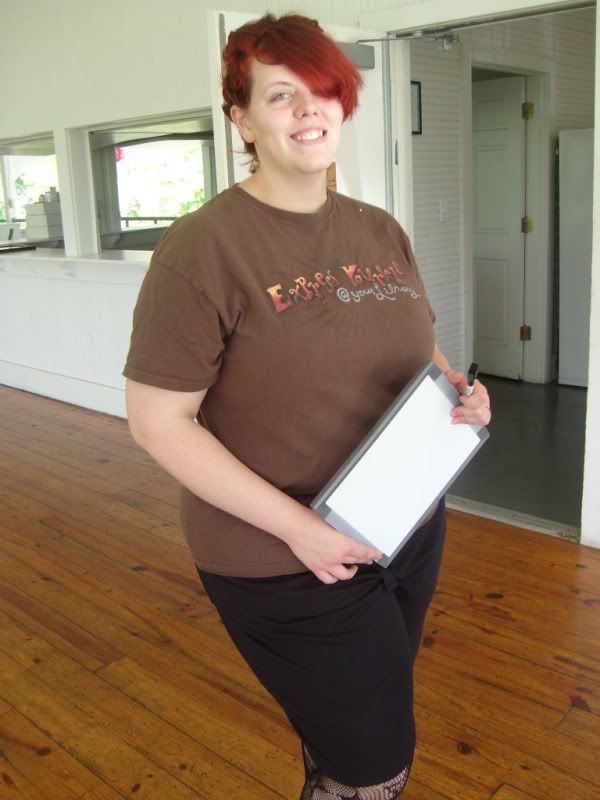 I'm so sexy!
Here is my hot little before outfit to the right. See those shorts? Yeah, I bought them just for hooping. Holla at yer girl!
I helped set up some more. I changed. I didn't even get to change on time. I was late to my own reception! Blargh! After a few more fixes to everything, John said it was time to start. We did the food and I passed drinks. I guess I shouldn't have had to pass drinks at my own wedding reception. Originally, I was grabbing mine but I just wanted to help the line go down quicker.
That is when I sat for a little bit with John. He ran off and I went to my friends and we talked. I talked to my friend's cousin about how she needs to hoop. That's when we went to hoop. Evidently, the only important friends of mine hula hoop. Woot woot woot.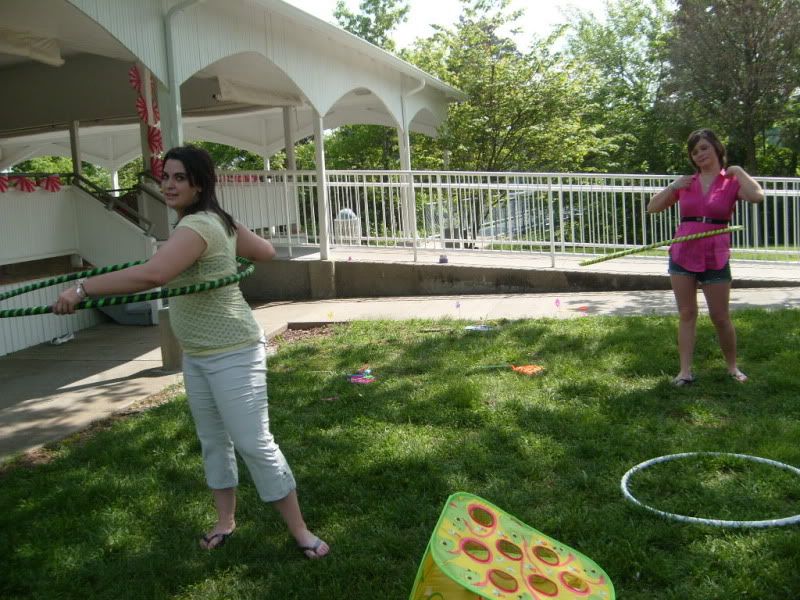 The girl with the green/black hoop is the one I taught how to hoop during my reception!
And that was the reception part with the hula hoops! Weee reception hoops! John said he didn't want to make me mad and let me do what I want. So the usual meet and greet that brides do? Yeahhhh, I didn't do that. I hooped.
The next day, my husband took me to his dad's old house while he mowed the lawn and I hooped. I don't know how I'll stand the heat in the summer. It was a scorcher already. I didn't really push myself while doing my 30/30 yesterday. I was just so hooped fatigued. I did what I had to and stopped. My muscles are feeling better though.
Oh, hello, new hooping shoes. Holla at $21 chuck taylors!
See the hoop I fell in love with and I stole for myself?